Spitfire & Bronco at the Haven Great Yarmouth Airshow
An iconic Spitfire fighter plane – with wartime battle honours and peacetime movie credits to its name – will fly in Great Yarmouth's summer air show.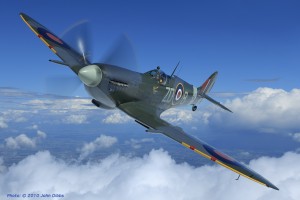 The 1943 aircraft chalked up a string of enemy "kills" during its two years with 222 Squadron. In "civvy street" the Mark IX Spitfire had a starring role in several war films including The Battle of Britain, The Longest Day and A Bridge Too Far.
Air show director Asa Morrison, announcing the latest displays at today's Great Yarmouth tourism awards, said: "Air show crowds love the sight and sound of a Spitfire, so we are delighted this legendary plane is joining our growing line-up of exciting aircraft."
The Spitfire also saw action in Java with the Netherlands Air Force before ending it military carers as a trainer in Belgium. In 1983 it was bought by ex Red Arrows lead pilot Ray Hanna as one of the founding aircraft of his Old Flying Machine Company based at Duxford.
The Haven Great Yarmouth Air Show on June 16-17 is organised by the Greater Yarmouth Tourism and Business Improvement Area to boost visitor numbers and the local economy. It is expected to attract 170,000 people and generate an extra £10m for local traders.
The debut event will showcase a mixture of military and civilian aircraft to entertain crowds over the seashore next to the town's Golden Mile.
Also joining the line-up is another war veteran aircraft type –  a twin tail boomed Bronco American light attack and observation aircraft from 1960s which saw action in Vietnam, the Cold War and Gulf War. It has also been used a gunnery target tug.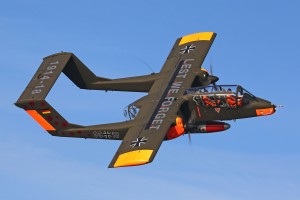 The Bronco display team, based at an airport near the Belgium Great War battlefield of Flanders is painted with poppies highlighting the sacrifices of those who died in the First World War and supporting a message of peace.
Other displays confirmed include the Blades and Wildcats aerobatics team, and the Army's Tigers freefall parachutists and an unusual Rutan flying wing plane owned by a local businessman. More will be announced in the coming weeks.
More information on www.great-yarmouth.co.uk/air-show
Pictures:
1 The 1943 Spitfire from the Old Flying Machine Company (pic John Dibbs)
2 Bronco display team (pic Ants Brants)
Media contact:
Issued on behalf of the Greater Yarmouth Tourism and Business Improvement Area by TMS Media. For more information contact air show director Asa Morrison on 01493 846492 ,  asamorrison@aol.com or Richard Batson at TMS Media 01493 662929, richard@tms-media.co.uk