Marketing
As the Destination Management Organisation for the Greater Yarmouth Area, marketing has been, and is a key component of our activities.
If you would like to see some of the marketing work implemented in 2022 please click here
or Marketing in 2023 click here
Marketing plans and work for the 2023 are well underway and we will be updating this page with further details as plans are made and carried out – further details as it happens can also be seen on the 'Marketing Activity' drop down menu.
The Visit Great Yarmouth Marketing Group firmly believes in the bigger picture with collective marketing of the destination and borough of Greater Yarmouth as a whole.  This is critical as the borough of Great Yarmouth stretches from Winterton in the North to Hopton in the South from Great Yarmouth in the east to Stokesby in the west. We need to reassure visitors that the area has everything they could want or need on holiday, from seaside to countryside, broads, beaches and tourist attractions and from theme parks to water sport activities with shops, restaurants, cafés and pubs as well as a good range of evening entertainment and quality accommodation to choose from. In addition to raising awareness of the whole borough as a fantastic holiday and day trip destination we endeavour to attract new visitors and boost the local economy and we also encourage and engage with local people to use local services.
Visit Great Yarmouth – The Greater Yarmouth Brand
Great Yarmouth has a strong core product, a strong brand and the strongest external image within Norfolk as evidenced by recent research carried out by VisitNorfolk. Further to extensive research benchmarking the borough for both tourism and business purposes, the marketing group develops and regularly updates the Greater Yarmouth Brand Essence Wheel, a brand model which is used as the basis for our campaigns so that at all times we present a consistent message via the chosen media. In Autumn 2020, the GYTABIA board approved plans to begin to using Visit Great Yarmouth as our customer facing brand.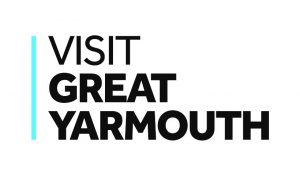 We promote Great Yarmouth as the premier holiday resort on the Norfolk coast, a traditional but modern, upbeat beach holiday resort surrounded by broads and countryside with a range of quality accommodation, restaurants, cafes, pubs, shops and attractions.
Our marketing campaigns will aim at attracting our traditional C1C2DE empty nesters and the C1C2DE family school holiday market which is the cornerstone of the borough's customer base and tourism spend but we are also looking for opportunities to increase visitor numbers, by type and spend by focussing on new target markets.  We do this by capitalising on the fun, easy going, relaxed nature of the borough, creating a vibrant destination where people of all ages enjoy taking holidays and short breaks.
Marketing 
Covid has created unprecedented times, and destination marketing has certainly been impacted. Whilst covid is still present our marketing plans must remain adaptable, scalable and flexible in order to meet the ever changing covid situation.
Schools in the recent past have issued tighter rules about allowing children to holiday within term time, to compensate for this we target growth in new markets outside of the July and August school summer holiday peak. To achieve this we work together with businesses in Greater Yarmouth to develop our overall product and ensure it is attractive to a different audience and that the holiday experience exceeds our visitor's expectations. Complacency could result in a continual slow decline of the tourism sector.
We plan to target alternative,  sustainable visitor growth in off peak and shoulder periods,, the long-term aim is for year-round tourism spend, generating higher tourism spend in the accommodation, attractions, retail and dining sectors.
2023
Focus continues is around National, Regional and Local PR, National Press Visits, National Competitions, as well as working closely with a select group of Bloggers and Influencers. For 2023 we have also created a Digital Guide Holiday & Short Break Guide 2023  We also now operate the destination website  Visit Great Yarmouth
Our Social Media platforms continue to grow and we are undertaking three social media campaigns as well as some specific marketing around Events.
If you would like to see some of the marketing work from 2022 please click here  or for marketing in 2023 click here
2022
The Marketing Group again focused on National, Regional and Local PR, National Press Visits, National Competitions, as well as working closely with a select group of Bloggers and Influencers. we also funded The Big Mini Golf Tour in 2022. The four-month event teed-off on National Miniature Golf Day, Saturday 14th May 2022 and ran until Miniature Golf Day on Wednesday 21st September 2022. if you would like to find out more click here
Our social media marketing campaign for 2022 showcased the borough as the videos below:
2021
The Visit Great Yarmouth Marketing group, (which is made up of industry representatives) developed a campaign for 2021, which was designed to be flexible around covid. Primary focus was on National, Regional and Local PR, National Press Visits, National Competitions, as well as working closely with Bloggers and Influencers. Overall we achieved nearly 4 million pounds worth of media value hosted 14 national journalists and worked on 5 Promotions. We also produced a range of promotional videos. More details on our coverage in 2021 can be found here
2020
We had planned a comprehensive marketing campaign to market the borough, however in March 2020 following the arrival of covid, almost all the plans were initially paused, then postponed. We focused on PR activities and as a result received over £1,200,000 worth of media coverage in 2020 across a wide range of national titles.
Marketing Highlights 2014-2019
Since the creation of GYTABIA, a wide range of marketing activities have been undertaken, these have included :
TV Campaigns – GYTABIA worked closely with GYBC to deliver a number of  TV Campaigns.
Digital Campaign in partnership with Visit England
Full Campaign in support of Haven Great Yarmouth Airshow 2018 inc radio, on line, bus advertising and souvenir guides, plus marketing support for all other events. All campaigns such as the Haven Great Yarmouth Airshow and the Great Yarmouth Maritime Festival were backed up on the Facebook page and other social media channels
We also worked closely with TMS Media to find new stories and push out new media releases about Greater Yarmouth
Development of 70 second 'webisodes'
We worked with Visit England to promote Greater Yarmouth and the borough as an all round resort targeting families, with an online campaign and a national radio campaign on Global radio
We also worked with  Visit England on their #RealTimeTravelGuide, a website which gathers our tweets and broadcasts them to people looking for certain types of holiday

We sponsored the weather on Heart radio in Essex, Hertfordshire, Bedfordshire and Buckinghamshire
We worked with over 50 bloggers to run a social media campaign/competition  and offered one lucky winner the chance to win an amazing holiday for up to 8 people staying at Haven Seashore holiday park
If you have any queries about marketing please email asa@gyta.com