New Chief Executive Asa Morrison
NEWS RELEASE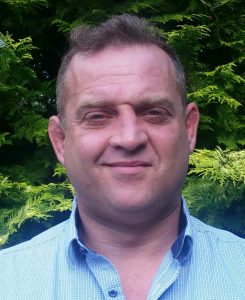 New tourism leader for Great Yarmouth
Great Yarmouth's new tourism leader's ambition is for its spectacular mix of natural beauty, events, attractions, and dynamic businesses to make it "the most talked about UK resort for great days out and holidays."
Asa Morrison, appointed this week as chief executive of Visit Great Yarmouth, the trading arm of Greater Yarmouth Tourism and Business Improvement Area (GYTABIA), pledged his key focus would be to sustain and grow the seven million visitors a year who choose the Great Yarmouth area to relax and have fun.
"Ultimately, I want so many people to discover what we have here that Great Yarmouth becomes the most talked about resort in the UK for all the right reasons."
His aim is for Great Yarmouth to enjoy a reputation as an all-year-round destination where visitors head to enjoy the "wonderful 15-mile stretch of golden sands from Hemsby and Winterton down to Hopton" outside school holidays in the 'shoulder seasons and its host of cultural, art and nature activities.
"I'd also love for people who live here to feel lucky they do, to appreciate what they have on our doorstep and see what we have here through the eyes of those seven million visitors who come here every year, many coming back year after year.
"Here, we can see spectacular sunrises on the beach and sunsets on the Broads. Where else can you walk on the beach, visit a National Park, walk in the woods, and have all the attractions and dynamic businesses so close together?
"The mix and diversity are incredible. And, even when it's packed in the summer, there is always somewhere to escape to be alone in beautiful tranquillity. It's also remote in terms of getting here, but also connected."
"To be talked about for the right reasons means we are doing all the right things. I'm particulary looking forward to developing our partnership work with Out There Arts and Great Yarmouth Borough Council. It is about the businesses, the local authorities and voluntary groups working together for the future.
Asa and his wife, Mandi, live just outside Great Yarmouth with their seven children. He grew up in Essex, the Peak District and Surrey and went to university in London. He spent his childhood summers with an aunt and uncle in Winterton.
"I met my wife in Great Yarmouth when we worked together on the seafront while I was doing my dissertation. We relocated to Surrey but returned and got married in Gorleston. I have strong family links with the area going back several generations."
Since, he has worked with GYTABIA for the last eight years, first as a consultant on major tourism projects and as executive director since 2018.
He was appointed by the GYTABIA board after a competitive recruitment process, which attracted multiple applications from across the UK after the role was advertised in November when Alan Carr stepped down after nearly three decades in the role.
Alan was a "true superstar for Great Yarmouth," he said. Taking over in a pandemic presented a challenge, he said.
"We must sustain and grow the number of visitors. The industry supports 13,500 jobs and it must be sustainable first and then growing. The key for me in 2022 is making sure that, with recovery from Covid, we get back to 2019 levels.
"This year will not be normal and will come with challenges, but we are expecting towards 2019 levels if not higher. We have to be smart about how we market and what we do."
In the short term, he wants "to see every single project we have invested in happen without any challenges, I would love to be in a situation in 12 months time that everything went spectacularly well."
"In the medium term, it is to build our reputation and making Great Yarmouth the most talked about resort in the UK for all the right reasons. "
Last month, Visit Great Yarmouth announced it would invest more than £420,000 into supporting major events and the tourism sector across the borough this year.
At least 14 different events will be supported by Visit Great Yarmouth, including full funding with a three-year commitment for summer fireworks in Hemsby and Great Yarmouth.
Great Yarmouth Bowls Festival, Great Yarmouth Wheels, the Out There Festival and the Fire on Water installation at the Venetian Waterways also have the same three year commitment.
"It is highly unlikely that winter will ever match the summer in terms of volume of visitors, but we are working to build up the 'shoulder' season by investing in activities outside the school holidays and putting out the message."
Redevelopment of the seafront with the rebuild of the Marina Centre and the Winter Garden plans added to "all the wonderful things happening around the destination and its dynamic businesses," he said.
Lyndon Bevan, Chair of Visit Great Yarmouth, said: "Asa has demonstrated his passion for and understanding of what the Greater Yarmouth area needs to take it into the next chapter in his previous roles and has big plans to build on what has been achieved."
ENDS