Summer fireworks return
Summer fireworks and street acts return
The holidays will kick off with a bang as the Big Summer Fireworks return to Hemsby and Great Yarmouth next week.
Big Tuesdays and Big Wednesdays begin at Hemsby on Tuesday (July 25) and Wednesday, (July 26) in Great Yarmouth, and will run every week for six consecutive weeks.
Fireworks will illuminate the skies across Hemsby and Great Yarmouth at 10pm, but a plethora of free entertainment takes place each Tuesday and Wednesday at 5pm and 9pm, courtesy of Out There Arts, who will line the streets at each venue with jaw dropping spectacles.
Day trippers, holidaymakers and residents can also make the most of the stunning shorelines of Great Yarmouth, the seafront bars, restaurants and takeaways and many seaside attractions along the Golden Mile, which will be open throughout each evening.
The summer evening sun at Hemsby can also be enjoyed, while visitors take in the attractions of Beach Road, the beautiful beach and the selection of food outlets.
Lyndon Bevan, chair of Visit Great Yarmouth, said the 'Big' events always attract a huge crowd.
"Our firework evenings are so popular with day trippers, who make a day and evening of it, our holidaymakers, who see it is an integral part of their time with us, and our residents, who comment that they are lucky to have this on their doorstep."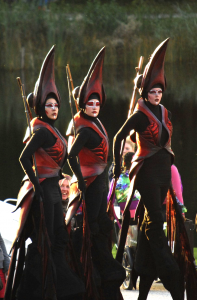 Joe Mackintosh, Chief Executive of Out There Arts, said visitors were in for a treat.
"Building on the massive success of last year's five ground-breaking 'Big Wednesday' events, we are delighted to be able to expand to 12 evening events in Great Yarmouth and Hemsby across the summer this year, combining world-class street performance from the legendary Dutch company Close Act Theatre with spectacular firework displays.
"And of course, in September we will also be producing a special 15thanniversary edition of the Out There International Festival of Street Arts and Circus to round this amazing summer off.
"With all this Great Yarmouth is becoming one of the UK's leading producers of outdoor arts and circus events."
Each evening is funded by Greater Yarmouth Tourism and Business Improvement Area (GYTABIA) trading as Visit Great Yarmouth and delivered by Out There Arts.
Asa Morrison, Chief Executive of Visit Great Yarmouth, said preparations had been made to launch the fireworks from three different locations.
"We have picked three fantastic locations to potentially set off the fireworks, allowing us flexibility with the weather, but also giving people a chance to experience as much of the seafront as possible and perhaps new businesses and attractions that they haven't accessed before.
"We want to ensure that all our visitors have the best possible views and enjoy a memorable experience."
The location of the fireworks will be announced at midday on the day of each event, on both Out There Arts and Visit Great Yarmouth's social media, as well as Visit Great Yarmouth's website using the following links.
https://www.visitgreatyarmouth.co.uk/whats-on/big-wednesdays-fireworks-p1396381
https://www.visitgreatyarmouth.co.uk/whats-on/the-big-tuesday-night-fireworks-p1761241
Big Tuesdays take place every Tuesday at Hemsby between Tuesday, July 25 and August 29, with street acts at 5pm and 9pm and the grand fireworks at 10pm.
Big Wednesdays are every Wednesday at Great Yarmouth, between Wednesday, July 26 and August 30, with street acts at 5pm and 9pm and the grand fireworks at 10pm.